FAQs
Please note: The answers for many of these FAQs make up our general terms and entry condition for visiting the cinema. Please read these terms carefully as by purchasing a ticket from Premiere Cinemas in-store or via our website you have accepted these terms.
TICKETING AND BOOKING QUERIES
Only for Students with valid NUS card do we offer a concessionary price of £3.00 per ticket, all other tickets are priced just £4.00 whether you are an adult, child, senior citizen or otherwise. This price sets the standard for the cheapest cinema tickets in Cardiff and applies to both 2D and 3D performances. There are no hidden fees, only one 50 pence booking fee per transaction if you chose to book online.
Yes, but we ask that you apply for and hold a valid Cinema Exhibitors Association card. We will not normally accept any other form of carer identification. You can apply for a CEA card by visiting ceacard.co.uk.
We do not offer Armed Forces discount. But all tickets are priced just £4!
We strongly advise that all customers pre-book their tickets in advance via our website. At peak times the cinema is often very busy and screenings regularly sell-out. Booking in advance is a sure way to be certain that you'll get to see your film and won't turn up disappointed. Pre-booking tickets with us won't break the bank either! There is one 50 pence booking fee per transaction whether you buy one ticket or ten tickets!
You can collect your tickets using the card you paid with at our ticket collection point. Alternatively without your card, once you've received confirmation of your booking through the website – you'll receive a 6 digit booking reference number which can simply be redeemed at one of our till points.
If you can no longer make a performance for reasons that are out of your control then we are happy to offer a refund or an exchange on your tickets for another performance at another time. This refund/exchange must be made prior to the performance starting however. No refund or exchange can be offered after the performance has finished - this is non-negotiable. We ask that any guest that requires either a refund or an exchange comes into the cinema prior to the performance starting. Refunds or exchanges can't be made over the telephone. If you cannot attend the cinema prior to the performance starting – then we are happy to offer an exchange for another time if you send us a quick written explanation of your circumstance via email to: premierecinemacardiff@gmail.com
Yes, on Tuesdays and Wednesdays you can get 241 cinema tickets on any of our films using your Meerkat Movies code. Meerkat Movies codes can only be redeemed however when purchasing one full priced ticket, or a student ticket if both customers have student ID. Meerkat Movies cannot be redeemed alongside any complimentary ticket or loyalty stamp card.
Yes, you can take to a baby to the cinema to enjoy a U, PG or 12A rated film. However, we ask that you spare a thought for our other guests – if your baby grows unsettled, please step outside for a moment until they have calmed down. If another guest raises concern that your baby may be disrupting the film, a staff member might politely ask that you step outside with your baby for a moment until they have calmed down. Any child under the age of 18 months gets in for free, for anyone older you must buy a standard £4 ticket. If a baby can enjoy the film from their own seat then they'll be asked to purchase a ticket.
If you booked tickets for the wrong Premiere Cinema then you need to contact the cinema you booked with in order to obtain a refund. Please note that both cinemas are run independently and use different ticketing systems. If you accidentally book tickets for Romford therefore, and intended Cardiff – Cardiff will not be able to refund this transaction. Premiere Cinemas Cardiff can be contacted using the contact details below, for Premiere Cinemas Romford please contact: premiereromford@gmail.com or call: 01708 740700.
Yes, we offer both. School bookings can be booked privately prior to us opening for business in the mornings and the cost is generally based on the number of students attending at £3 per head, with teachers or guardians going free. Any other type of private or company booking would be price dependant on the day and time you'd like the screen but would generally involve purchasing every seat in the screen at the cost of £3 per seat. If you are interested in either of these options then please send an email with your requirements to premierecinemacardiff@gmail.com and we'll get back to you as soon as possible.
This is a decision taken at the discretion of you, the parents. A 12A certificate means that some parts of the film may not be suitable for someone under the age of 12. However, we will happily welcome younger guests if they come to a 12A rated film with a grown-up.
A full concise chart of the British board of film classification age ratings is below. Please note that you must be of that films age rating or over in order to enjoy it with us and following those strict guidelines. These terms are non-negotiable. For proof of age if you are lucky enough to look under the required age then we would need to see Photographic identification (i.e. driving license or Passport) if you have no photographic ID then we recommend that you apply for and hold a Validate UK card – You can do so by visiting validateuk.co.uk or by collecting an application form in our foyer area. Please note that the following examples are NOT proof of age and could result in you being turned away from your chosen film; A Birth Certificate, School ID Card, Bus Pass, Your Parent's "say-so" and especially not your facebook profile.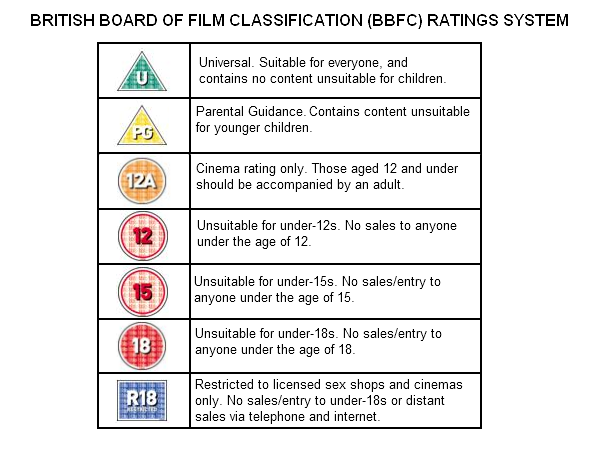 ACCESSIBILITY
Yes, the cinema is fully wheelchair accessible. It is however an old building with a lot of stairs, therefore when you arrive at the cinema to the right of our entrance is a bell to ring for disabled access. Once you've rung the bell a staff member will come out and open the disabled ramp access for you. Disabled spaces are available at the back of all five of our screens. There are two disabled lifts that'll get you upstairs to screens 2, 3, 4 and 5. Please note there is only disabled access through the main entrance of the cinema, there is no disabled access through the shopping centre entrance.
Disabled seating spaces are located at the back of all our auditoriums.
Yes, we'll normally set aside one or two performances per week which offer subtitles for the deaf or hard of hearing. The following weeks subtitled performances will normally be published on our website on a Monday afternoon for the cinema week starting that Friday.
Yes, we provide accessible screenings for blind or partially sighted guests. Most films are provided with an Audio Descriptive dialogue track, which describes action scenes, the actor's body language and provides additional dialogue information. When a film is provided with this separate track simply ask a staff member at the box office for one of our lightweight headsets to be able to hear this track. In addition, Guide Dogs are also welcome at our cinema.
At present we do not offer Autism Friendly Screenings, however many of our city centre competitors do, you can check times and performances by visiting those cinemas websites.
FOOD AND DRINK
Yes, both our Sweet and "Butter-Salt" popcorn are suitable for both Vegetarian and Vegans. The butter flavouring in our Salted popcorn is derived from the artificial (mineral and vegetable sources) E102 and E110 which are both vegan friendly. Our Toffee Popcorn contains actual butter and is unfortunately not suitable for vegans. Similarly, our Nachos and Salsa dip are both suitable for vegetarian or vegan consumption. The cheese sauce however contains dairy product and is not suitable for vegan consumption.
Yes, our hotdogs are a 90% Pork product.
Yes and No. You can bring your own snacks to the cinema, but please note our cinema snacks and drinks are priced much more reasonably than you'll find in other cinemas. You will not be able to enter the cinema auditoriums with hot food purchased from local takeaways and restaurants – this is only because hot food has a strong odour which can ruin other guest's cinema-experience.
No, we do have a licenced bar area which at present is closed – there are future plans for this area which will be announced in due course. We do not however, allow alcohol consumption in any of our auditoriums. This is mainly to prevent anti-social behaviour but also to prevent possible hazards such as broken glass etc.
VOUCHERS, LOYALTY & DISCOUNT


Yes, gift vouchers are available to purchase in-store only, at the box office/concessions counter. At present we sell gift vouchers to the sums of £5, £10 or £20. You can mix and match these amounts in whichever way you prefer. Please note that gift vouchers can be exchanged for tickets or refreshments up to the vouchers cash value. Any damaged or defaced vouchers cannot be exchanged and we accept no liability for the replacement or refund of damaged, stolen or lost gift vouchers. Furthermore, these vouchers are non-exchangeable for cash.
Our loyalty system is based on stamp cards – for every film you watch, you receive a stamp – collect 5 stamps and get your 6th film for free – completely on us! Stamp cards are only redeemable in-store however, there is no function to use them online. You are entitled to receive one stamp per every full price ticket that you pay for. You are not eligible to receive a new stamp only when using either your free 6th ticket, Spice Time Credits, CEA or a Cinema Advertiser's Card. Loyalty stamps are a free extra benefit that we offer our customers, they are not part of the price you have paid per film. The process therefore, in which we accept loyalty cards can be stopped or changed at any point at management's discretion.
No, Meerkat Movies promotions can only be redeemed when either buying one full price ticket or a reduced student ticket so long that both customers have student ID.
We no longer accept Spice Time Credits.
Yes, simply bring your Admiral identification card to the cinema box office when purchasing tickets.
TERMS AND CONDITIONS


Please note: The answers for many of these FAQs make up our general terms and entry condition for visiting the cinema. Please read these terms carefully as by purchasing a ticket from Premiere Cinemas Cardiff in-store or via our website you have accepted these terms. All other general Terms & Conditions are noted below:


Management reserves the right to refuse entry to anyone at any point.

It is your responsibility to check your tickets and consider the suitability of the film you have chosen to watch, as we are under no obligation to rectify mistakes after a contract has been formed. Please note that tickets cannot be exchanged or refunded. The cancellation rights contained in the Consumer Contracts Regulations 2013 do not apply to the sale of cinema tickets.

The unauthorised use of photographic and recording equipment in our cinema is strictly prohibited.

We accept no responsibility for any personal property that is brought into the cinema.

We reserve the right to ask any guest who is lucky enough to look young for photographic identification to prove their age for 15 and 18 rated films.

The use of mobile phones in our auditoriums is strictly prohibited. If you are caught using your mobile phone in one of our auditoriums then you'll be asked to leave. This is a piracy concern and also shows a complete lack of respect to your fellow cinema-goers.
Children must remain seated for the duration of the featured performance, with exception only to restroom or refreshment breaks. Please understand that the cinema is not a playground, and that anyone roaming the auditoriums during the feature severely ruins with other guests viewing experience.
Making noise, disrupting a performance or partaking in any other form of anti-social behaviour in the cinema will also result in you being asked to leave. In most cases you will also be asked not to return.

Smoking and/or the use of electronic cigarettes devices is strictly prohibited through-out all of the cinemas auditorium and foyer areas.

No dogs or any other animal is allowed in the cinema, the only exception to this rule is for Guide and Assistance Dogs.
Complaints Procedure
All complaints are dealt with by the management team in-house at Premiere Cinemas Cardiff, if you are unhappy or dissatisfied with your experience in any way please put your complaint into writing and we'll do our best to resolve your grievances as soon as possible:

Email: premierecinemacardiff@gmail.com
Address: Premiere Cinemas, Capitol Shopping Centre, Queen Street, Cardiff – CF10 2HQ